We wanted to let folks know about some other events of interest in case for some crazy reason you wanted to do some non-jeep related activities during your stay. We at OCJW and the Commander Hotel want you to have a great time and we also want to share with other organizations, businesses and our supporters all that we know about as far as whats going on in OC. We want to share the wealth if you will and we want other businesses and organizations to help us spread the word about what we are doing in turn for them telling folks about us. It's all about networking and getting the word out.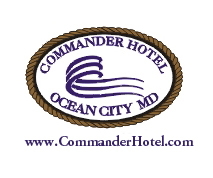 We hope that you have made you reservations at the "Offiicial Host Hotel" The Commander Hotel at 14th and the Boards. Without them this event would never have gotten off the ground. We also hope that you have shown or will show your support to the many other sponsors that we have signed on to help us put this event together. Click here or go to our "Sponsors and Links Page" to see the great group of sponsors that have helped us for 2012.
We want to say thanks for all of those who have helped but we also want to help others get their events out to the public.
To the right of this page, we have provided space with links to some of the other events and goings on that you or someone you know may be interested in. Give our friends a look!